Elegance Redefined: The Kolam Black Shirt by 'No Grey Area'
Posted by AADITHYA BALACHANDRAN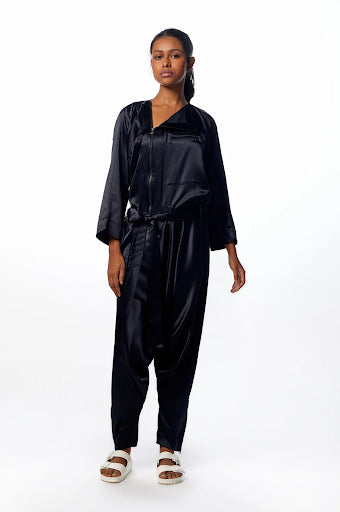 In the world of fashion, there are pieces that stand out not just for their style but for the stories they tell. The 'Kolam Black Shirt' from 'No Grey Area' is one such creation that weaves together tradition, artistry, and modernity into a tapestry of elegance. The Silk Kolam Long Shirt is a striking example of the label's dedication to crafting unique pieces. This kurta-style long shirt features a stunning Kolam motif, meticulously printed in black and white. Crafted from 100% silk, it exudes an aura of sophistication and luxury. It's not just a shirt; it's a statement of style, a fusion of tradition and contemporary design.
Another gem in the 'No Grey Area' collection is the Kolam Blockprint Shirt. This shirt is a testament to the label's commitment to preserving traditional craftsmanship. It's hand block printed with the intricate Kolam motif in black and white. The result is a shirt that encapsulates the essence of Indian artistry and culture, presented in a modern and wearable form. 'No Grey Area' is driven by a relentless pursuit of inspiration. Whether it's drawn from people, art, culture, or the everyday, this label understands that clothing is more than just fabric – it's a medium of self-expression. It's this interpretation, this constant evolution, that allows the label to truly understand its wearers.
The Kolam Black Shirt is more than just clothing; it's a celebration of India's rich cultural heritage. The Kolam, a traditional South Indian art form, is often seen adorning the thresholds of homes. It's a symbol of auspiciousness and artistic expression. 'No Grey Area' takes this symbol and transforms it into a fashion statement that transcends borders and time. When you wear the Kolam Black Shirt, you're not just wearing fabric; you're wearing art, culture, and history. It's a reminder that fashion can be a bridge between tradition and modernity. It's an invitation to express your unique style while paying homage to India's rich artistic legacy.
So, if you're looking to redefine elegance in your wardrobe, the Kolam Black Shirt by 'No Grey Area' is the perfect choice. It's a piece that tells a story, sparks conversations, and connects you to a world of culture and creativity. It's more than fashion; it's a journey of self-expression, a canvas for your individuality, and a testament to the label's commitment to artistry and heritage.
Collection 2019
Sale 70% Off
Title for image