Elevate Your Wardrobe with 'No Grey Area' Boxy Dress Shirts
Posted by AADITHYA BALACHANDRAN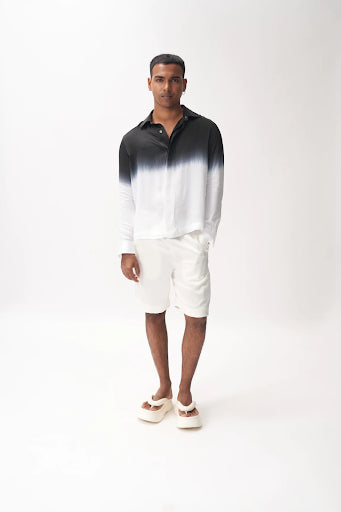 In a world where fashion trends continually evolve, 'No Grey Area' stands as a beacon of innovation, seamlessly blending tradition with modernity. This label understands the allure of contemporary casual wear while embracing the rich heritage of Indian culture. And nowhere is this more apparent than in their collection of Boxy Dress Shirts. One of their standout pieces, the Dip Dye Boxy Shirt, exemplifies the fusion of tradition and modern design. Crafted from luxurious satin, this shirt is hand dip-dyed to perfection. The result is a stunning play of colors that adds an artistic flair to the classic dress shirt. It's the ideal choice for those who appreciate the finer details and a touch of uniqueness in their wardrobe.
Another gem in 'No Grey Area's' collection is the Third Eye Boxy Fit Dress Shirt. This dress shirt takes the concept of an oversized boxy fit to the next level. It provides a relaxed, comfortable silhouette while exuding a sense of confidence. What sets it apart is the embroidered Third Eye motif on the chest. This not only adds a touch of mysticism to the design but also serves as a testament to the label's commitment to cultural representation.
'No Grey Area' isn't just about crafting clothing; it's about crafting experiences. These Boxy Dress Shirts are a reflection of the brand's dedication to understanding and meeting the needs of its wearers. They are the perfect blend of heritage and modernity, offering a contemporary take on traditional Indian clothing. The label's fascination with contemporary casual wear and its roots in Indian culture make each piece from 'No Grey Area' a statement of style and authenticity. The Boxy Dress Shirts are no exception, adding a touch of sophistication to your wardrobe while staying true to the label's unique design philosophy.
Whether you choose the artistic allure of the Dip Dye Boxy Shirt or the confidence-boosting Third Eye Boxy Fit Dress Shirt, you're embracing not just fashion but a piece of history. 'No Grey Area' invites you to elevate your wardrobe and be a part of a fashion journey that bridges the gap between tradition and modernity. With these shirts, you're not just wearing clothing; you're wearing art, culture, and a story that spans generations.
Collection 2019
Sale 70% Off
Title for image