Elevate Your Wardrobe with the Exclusive 'Indian Jumpsuit' by 'No Grey Area'
Posted by AADITHYA BALACHANDRAN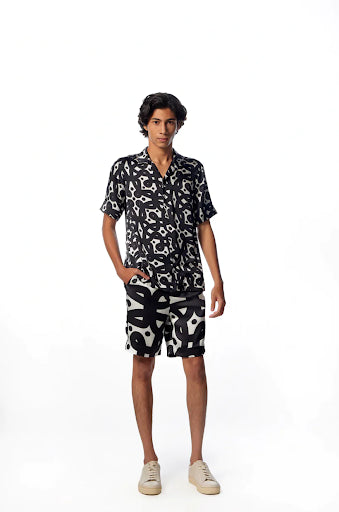 In the world of fashion, where trends fade and individuality shines, 'No Grey Area' stands as an emblem of innovation. The 'Indian Jumpsuit' from this label is not merely clothing; it's a tapestry of tradition, craftsmanship, and modern flair. This exclusive creation, the Silk Kolam Indian Jumpsuit, reimagines the boiler suit into a work of art. Its asymmetric neckline draws inspiration from the ancient Punjab Kurta and Dhoti silhouette, infusing a touch of heritage into contemporary fashion. Crafted from luxurious 100% silk, it epitomizes the label's commitment to quality. What's more, it's made in a zero-waste pattern, underscoring their dedication to sustainability.
What truly sets this piece apart is its exclusivity. The 'Indian Jumpsuit' is a made-to-order masterpiece, ensuring that each creation is meticulously crafted with precision and care. In a world of fast fashion, this jumpsuit invites you to savor the art of slow fashion. Please allow up to 30 days for the crafting of this exquisite piece; it's a testament to the label's dedication to creating something truly special. 'No Grey Area' finds its roots in the mysticism of ancient India. It's a heartfelt tribute to the authenticity of cultural representation. Each piece in their collection tells a unique story, delving into the rich tapestry of Indian culture and translating it into contemporary fashion.
This jumpsuit isn't just clothing; it's an embodiment of history, a fusion of past and present. It's a statement of style that transcends trends and invites you to express your individuality. When you wear the 'Silk Kolam Indian Jumpsuit' by 'No Grey Area,' you're not just wearing fabric; you're wearing art, culture, and a piece of heritage. As a token of appreciation for their customers, 'No Grey Area' offers an enticing 15% discount on first orders. This means you can elevate your style with this exquisite jumpsuit while enjoying substantial savings. It's an opportunity to be part of an exclusive community that values both tradition and innovation.
So, if you're ready to elevate your wardrobe, embrace culture, and make a statement that defies convention, the 'Silk Kolam Indian Jumpsuit' is the perfect choice. It's more than just apparel; it's a celebration of India's rich cultural heritage, a harmonious fusion of tradition and modernity, and an invitation to express your unique style. Don't miss the chance to own a piece that's exclusive in both design and craftsmanship.
Collection 2019
Sale 70% Off
Title for image