Revamp Your Wardrobe with 'No Grey Area' Boxy Dress Shirts
Posted by AADITHYA BALACHANDRAN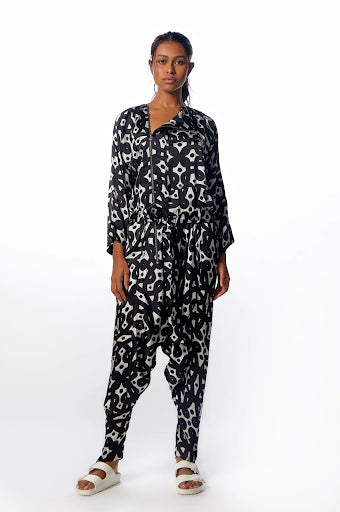 In a world of ever-evolving fashion, 'No Grey Area' emerges as a trailblazer, seamlessly merging tradition with contemporary flair. This label is a testament to the fascination with the fluidity of contemporary casual wear and the deep-rooted traditions of Indian culture. In its collection of Boxy Dress Shirts, 'No Grey Area' strikes the perfect balance between heritage and modernity.
The Linen Boxy Shirt is a standout example of this harmonious blend. Crafted with a relaxed boxy fit, it features an intricate ladder seam that's hand-embroidered on the shoulders. This attention to detail adds an artistic touch to the shirt, transforming it from a classic piece to a work of art. It's the ideal choice for those who appreciate the finer nuances of fashion and seek a unique addition to their wardrobe. Another gem in 'No Grey Area's' collection is the Pravah Boxy Fit Dress Shirt. Made of 100% silk, this dress shirt boasts an oversized boxy fit that exudes confidence and comfort. What sets it apart is the elegant Pravah text motif beautifully embroidered on the fabric. This not only adds a touch of sophistication but also showcases the label's dedication to cultural representation.
For those seeking both style and substance, 'No Grey Area' has a special treat. As a gesture of appreciation for its customers, there's an enticing offer of 15% off on first orders. This means you can elevate your wardrobe with these exquisite Boxy Dress Shirts while enjoying a significant discount. 'No Grey Area' isn't just a brand; it's an experience. Each piece in its collection reflects a commitment to understanding and satisfying the needs of its wearers. These Boxy Dress Shirts capture the essence of India's rich culture while offering a fresh take on traditional clothing. The label's fusion of contemporary casual wear and Indian heritage shines through in every design. It's an invitation to explore the elegance of Indian culture in a modern context, where tradition and modernity coexist harmoniously.
So, if you're ready to elevate your style with a touch of artistry and cultural richness, 'No Grey Area'
Boxy Dress Shirts
are the perfect choice. They're more than just clothing; they're an embodiment of tradition, modernity, and a unique fashion narrative. Don't miss the opportunity to make a statement with your style and enjoy the exclusive discount on your first order.
Collection 2019
Sale 70% Off
Title for image